Introduction
Hello Whitney Houston Wiki! this is Naldo with a community update. This update will include pages that are in need of help from the community as well as a few other annoncements about my plans for this community etc.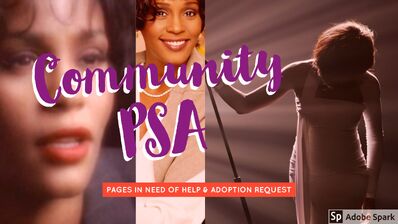 Pages In Need of Help
(There's alot of information that can be uploaded to these pages so just contribute what you can
(Pretty much all of the pages on this wiki is in need of contributions but I want us to try focusing on these)
Adopting This Wiki
In hopes of reviving this community I will be sending in a request to adopt this community today (4/22). This is because User:Ryanscalon has not edited the community since May 12, 2010, If anyone has any questions about that please free to let me know. With that said may everyone have a fantastic new year
Community content is available under
CC-BY-SA
unless otherwise noted.