I Have Nothing is a 1993 single from the Bodyguard Soundtrack Album. The song was released as a single on February 20th, 1993. The song was produced by David Foster and was written by Foster as well as Linda Thompson. Between 1993-2012, I Have Nothing has peaked #1 on charts such as the Canada Top Singles, US Adult Contemporary (Billboard), and the US Radio & Records CHR/Pop Airplay Chart. The song is also certified Gold by the RIAA with (500,000) sales and silver by the UK's BPI with 220,000 shipments.
Music Video
The music video was directed by S.A Baron and it involves scenes from the bodyguard movie.
Live Performances
Whitney included this song in her setlist for the bodyguard tour. One of her most recognizable performance of this song from the 4th BMAs on December 9th, 1993.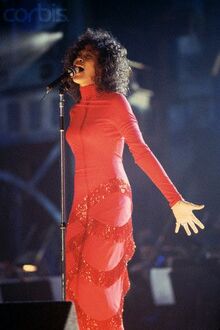 Whitney also performed the song in a medley at the American Music Awards on February 7th, 1994. The medley included the songs "I Loves You, Porgy" from Porgy and Bess, "And I Am Telling You I'm Not Going" from Dreamgirls, and "I Have Nothing".